É tão bom sentir aquele nervoso miudinho quando fazemos algo de Corpo & Alma!
No passado dia 29, a convite do Belas Clube de Campo, fiz o meu 1º Workshop cujo o tema eram algumas sugestões saudáveis e saborosas para o dia de Natal.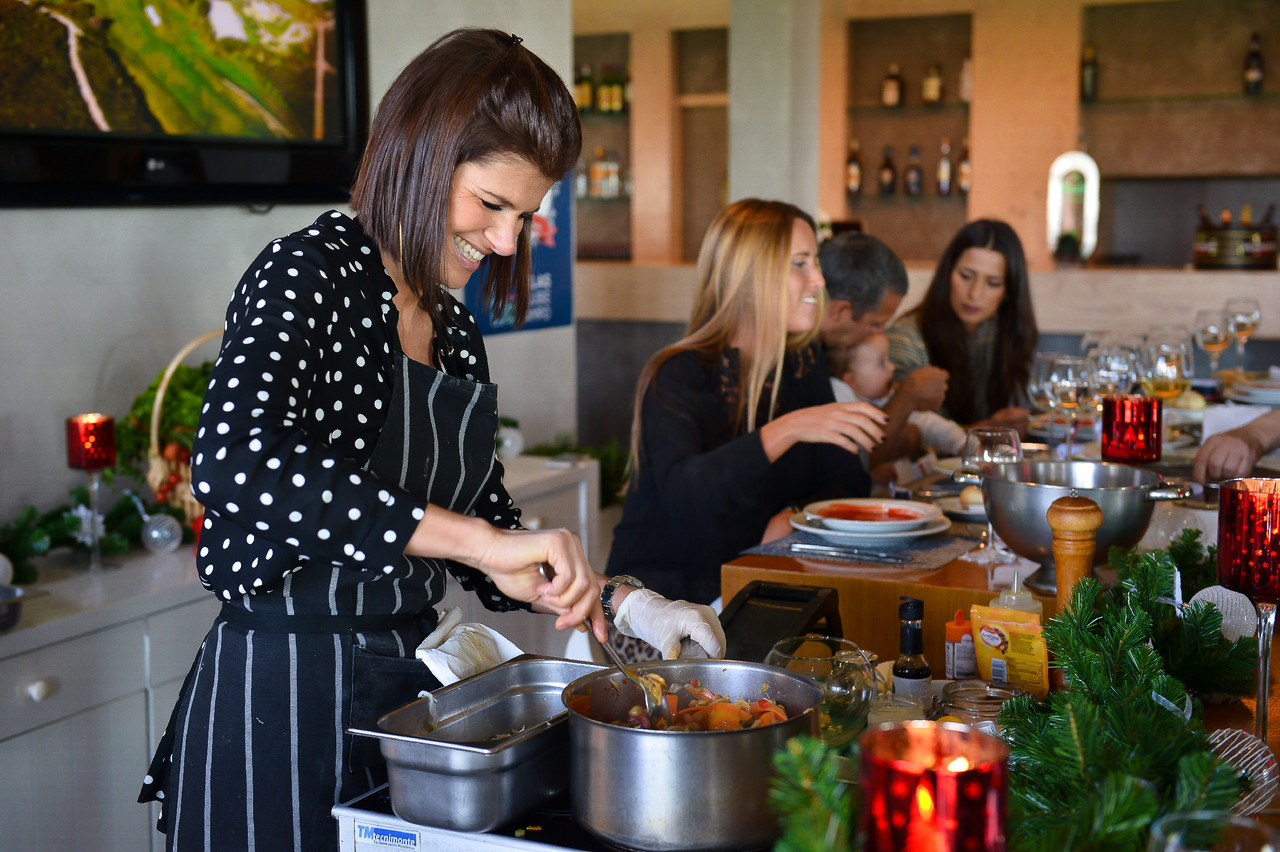 Eram 10h30 quando "invadi" a cozinha de forma a deixar preparado a maior quantidade possível, de maneira a evitar o compasso de espera e ficar sem saber o que fazer! Foram todos 5 estrelas, ajudaram-me na hora, aliás, do princípio ao fim! (16h)
Eram 13h e estava tudo a postos para receber os meus queridos amigos para almoçar!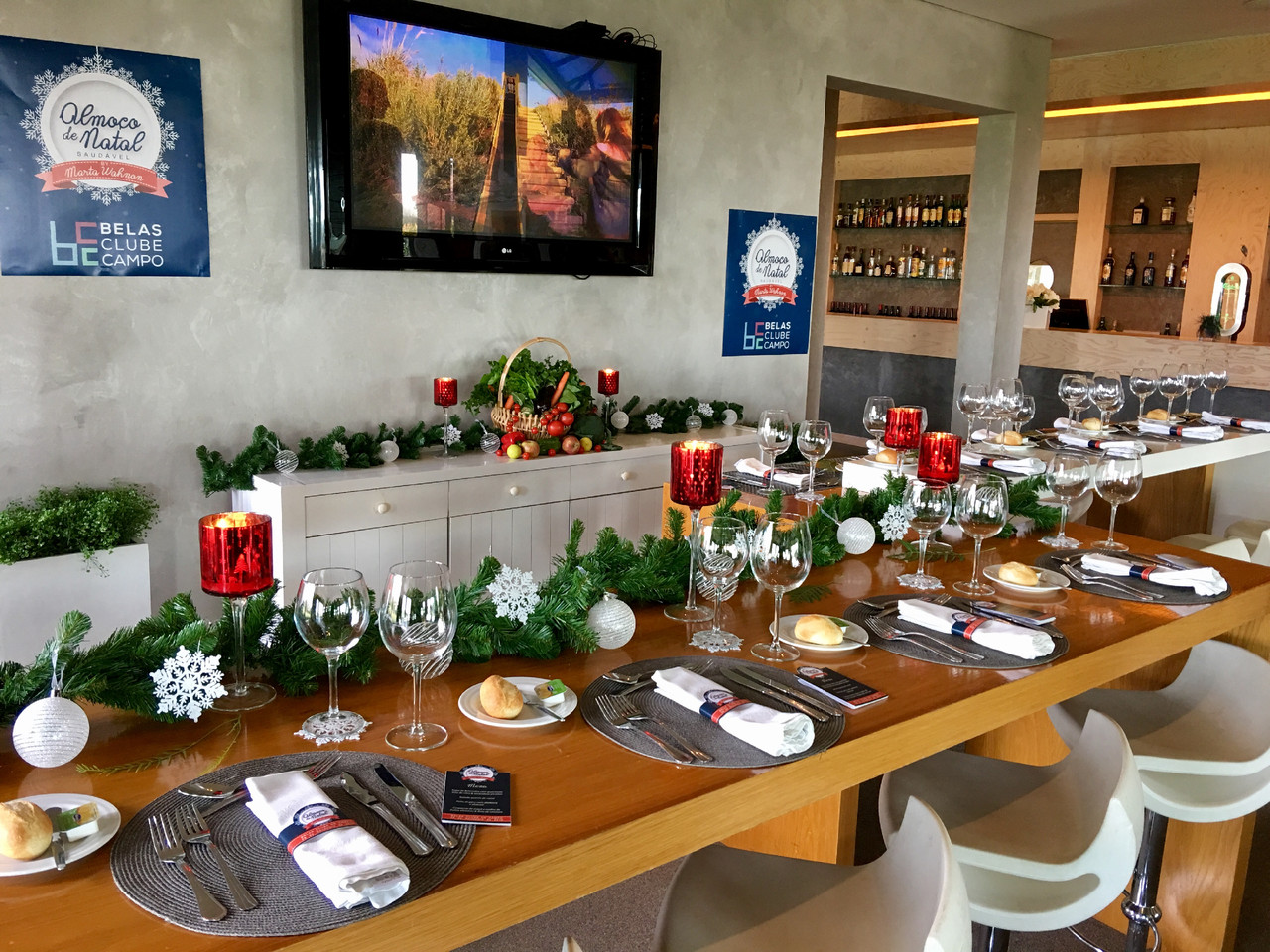 Graças a Deus, era um grupo com quem sentia-me à vontade, um grupo cheio de energia positiva  acredito que isso também tenha ajudado no sucesso do almoço.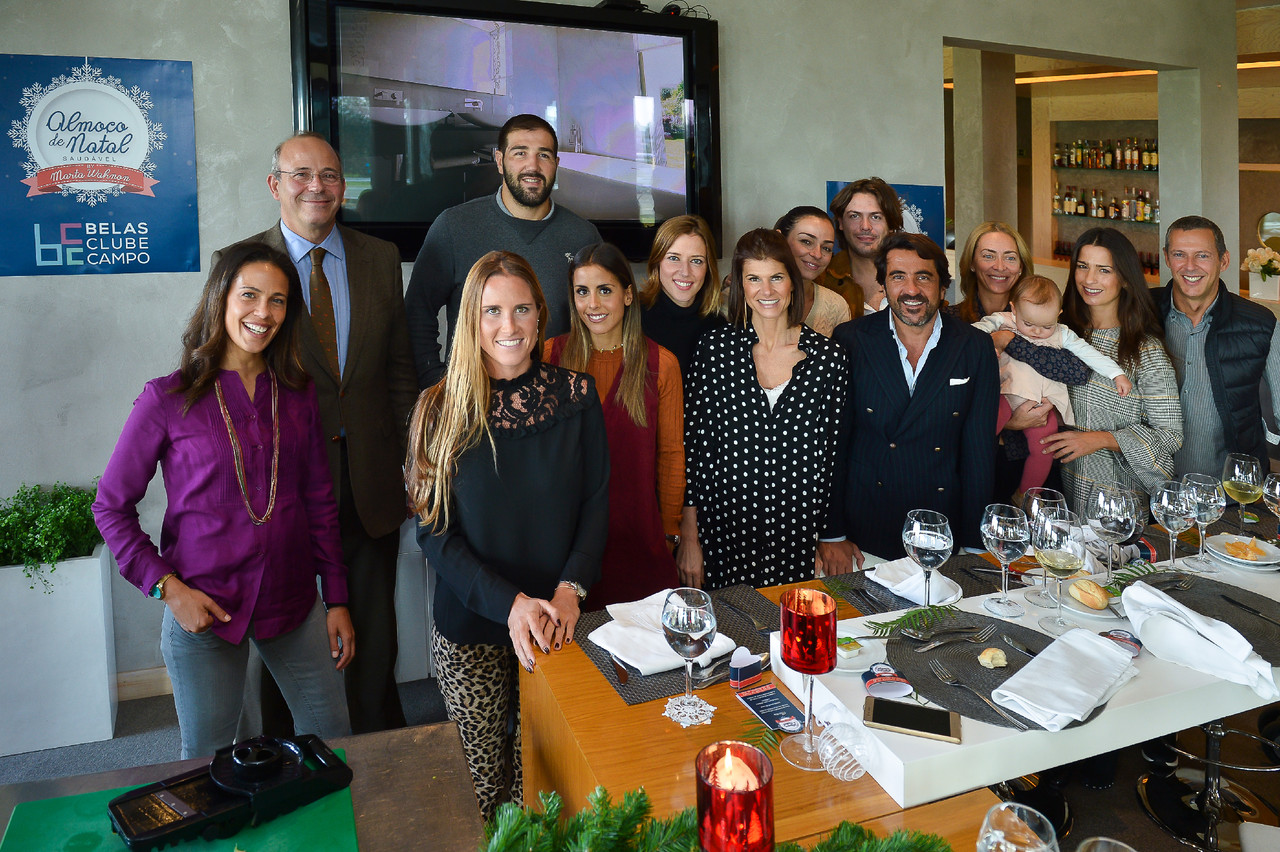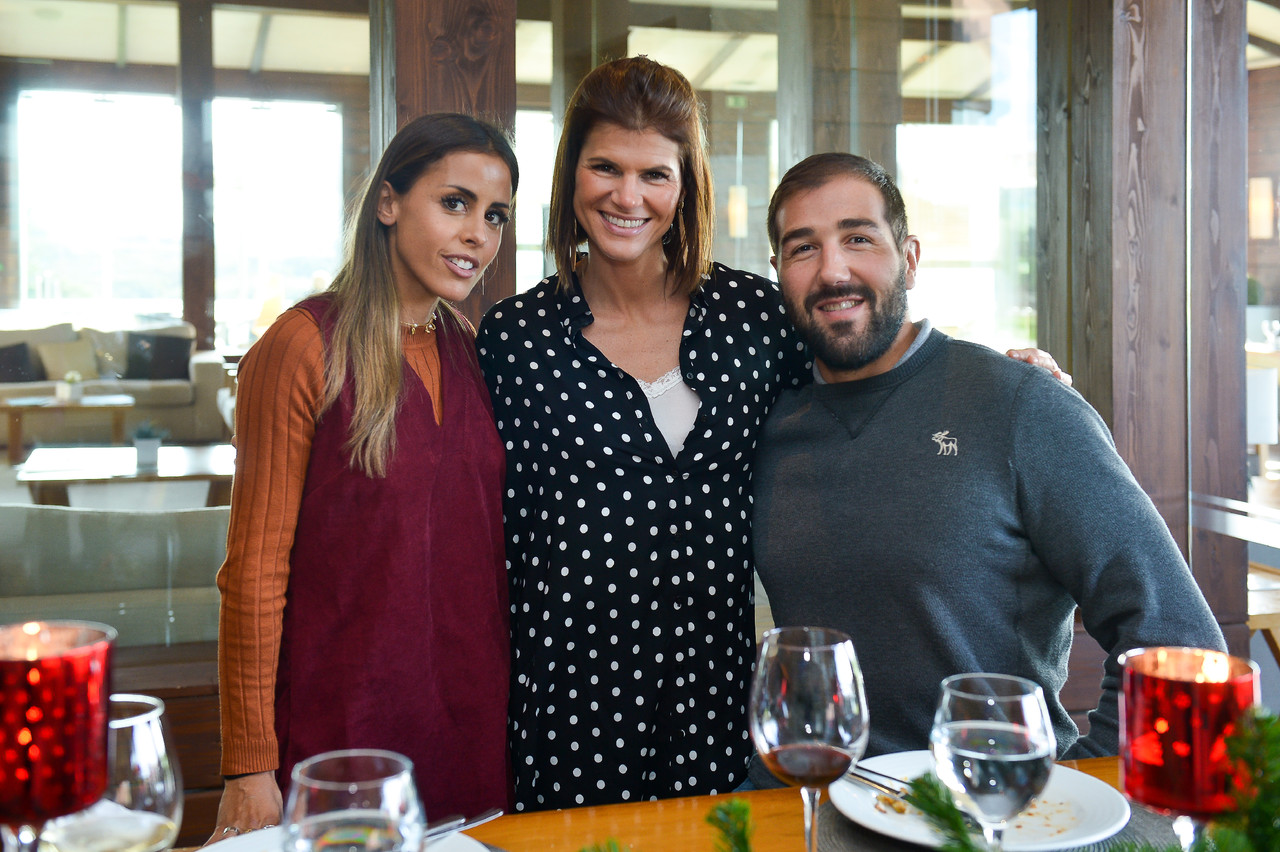 Comecei com a preparação de um lombo de peru - "fugir" ao tradicional e optei por fatiá-lo e fazer uma mistura com lima, tâmaras e raspas de laranja.
As perguntas eram várias, a "aluna" mais curiosa, sem dúvida, a Patrícia Bull, mais uma vez, obrigada pelas fotos minha querida e espero ter ajudado para num futuro, enriquecer a tua despensa no mundo das especiarias, e Carol, fica prometido, vamos às compras, sou tua guia, vai ser divertido! 
Enquanto preparava o lombo, foi servido a Sopa de Beterraba que é um pouco spicy (É propositado - faz parte do Doup Detox 3 Days) e a minha querida amiga e nutricionista, Sara Biscaia Fraga - mais uma vez, muito obrigada pela tua ajuda no complemento dos valores nutricionais dos pratos, não é grande fã mas lá comeu... Até ao fim! :)
Antes de passarmos para o prato seguinte:
Salada Quente de Natal, (onde esqueci-me de levar o Wok!), cozinhei com o que havia, fizemos um "break" para a fotografia de grupo e seguimos para os dois pratos:
Salada Quente de Natal - Para 4 Pax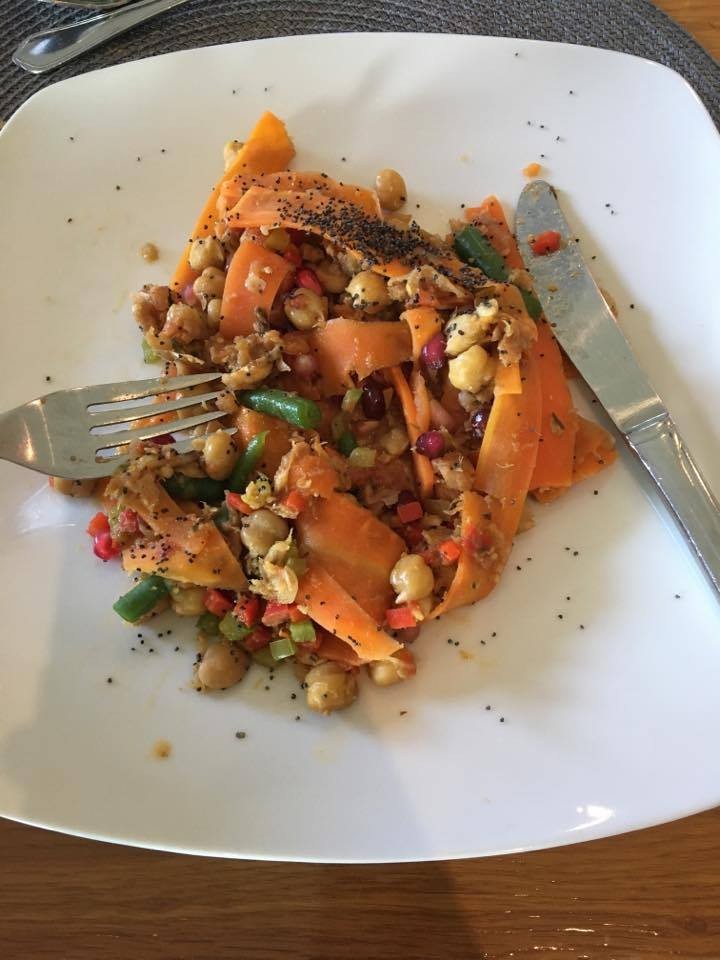 Lata grande de grão
300gr Bacalhau desfiado
600gr Cenoura cortada em "fajitas"
60gr Tomate seco
160gr Pimento fatiado amarelo ou laranja
1 Romã
8gr Gengibre ralado
100gr Feijão Verde Redondo
80 gr Tâmaras
2 Colheres sopa Óleo de Coco
Sementes de papoila
Pré aqueça o forno a 190º enquanto escorre o grão de forma ficar o mais seco possível; logo depois, espalhe sobre o tabuleiro e tempere com piri piri (cuidado a dosear!), sal e azeite. Ponha no forno a 180º por 15\18'.
Corte as cenouras em "fajitas" e num outro tabuleiro, espalhe-as e tempere com açafrão, erva doce e canela, segue para o forno por 15'.
Entretanto, no Wok e em lume brando, ponha o óleo de coco, seguido do bacalhau desfiado, envolva-os bem, misture o gengibre, o tomate seco e o feijão verde cortado em pedaços, seguido do grão e da cenoura.
Quer no caso do grão quer na cenoura, arraste o molho de ambos os tabuleiros para dentro do wok, são eles que irão dar sabor à salada.
Depois de bem misturados, junte a romã e o sumo desta, juntamente com as tâmaras que devem ser cortadas em pedacinhos pequenos de forma a misturar bem com os restantes ingredientes.
No final, prove novamente para verificar se precisa de um pouco mais de sal ou pimenta e estará pronto a servir.
No momento de empratar, por cima da salada, coloque umas gramas de sementes de papoila.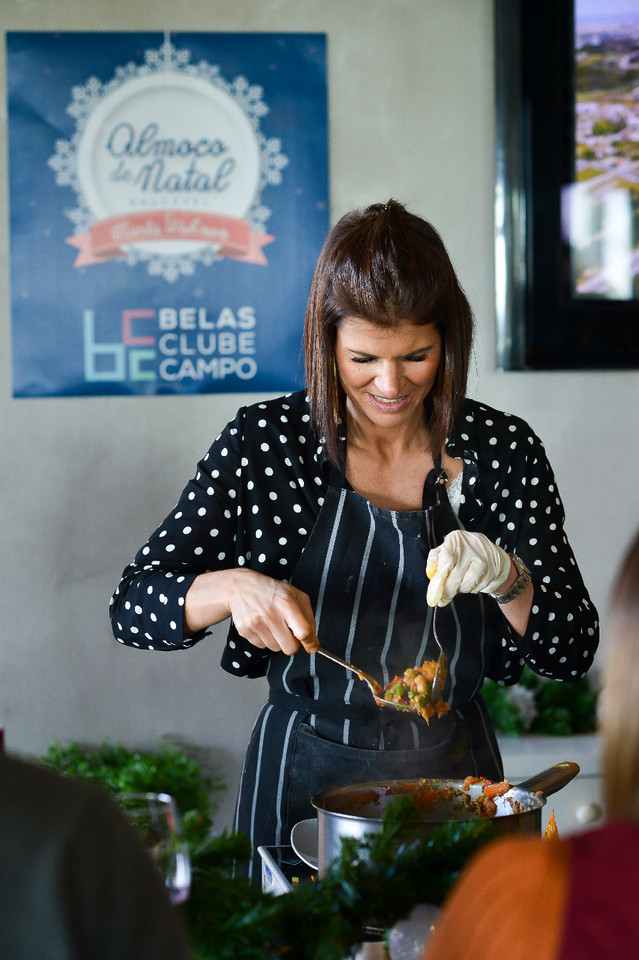 Peru Recheado com Lima e Tâmaras, Abóbora e Abacaxi no forno:
Um lombo de 1200kg dá para 7\8 pax
Cortar o lombo em duas fatias e em cada uma delas fazer o seguinte:
Colocar sal rosa dos Himalaias lima cortada muito fina deitar sobre uma cama e por cima desta por as tâmaras cortadas sem caroço.
Temperar com pimenta, canela, mostarda em pó e um pouco de raspa de laranja. Barrar com um pouco de óleo de coco em ambas as fatias.
No topo do lombo para além destes ingredientes, juntar oregãos e uma vez colocado no pyrex, passar um pouco de azeite.

Colocar no forno a 180º durante 20\25'
Agora já mais tranquila, quase a terminar, faltava mostrar como uma simples maçã podia fazer um prato tão bonito, saboroso e o melhor, render até 3 pratos!
Seguiu o carpaccio de maçã com recheio de frutos silvestres, canela e amêndoa picada e a acompanhar o café o bolo de cenoura que comeram e repetiram ate ter trazido para casa apenas o pyrex onde foi feito - Que Alegria!
E quando dei por mim, eram 4 da tarde de um dia em cheio!
Mais uma vez quero agradecer Joaninha por te teres lembrado de mim, espero ter estado à altura das V/expectativas, obrigada Clarapor toda a tua dedicação, Amei conhecer o Belas Clube de Campo, fiquei fã, obrigada a todos os amigos convidados e presentes, um obrigada especial à Mariana Alvim, já há poucas pessoas a terem a atitude que tiveste e repito quando digo que me emocionei com o teu gesto, agora só resta dar-te uma "ensaboadela" sobre legumes & fruta com casca e não como vês quando aparecem diretamente no prato, ok?! ;) Por último e igualmente importante, obrigada Nuno, foste a minha maior força para seguir em frente com este projeto e de que valia este momento tão mágico se não pudesse partilhar com o Amor da Minha Vida!?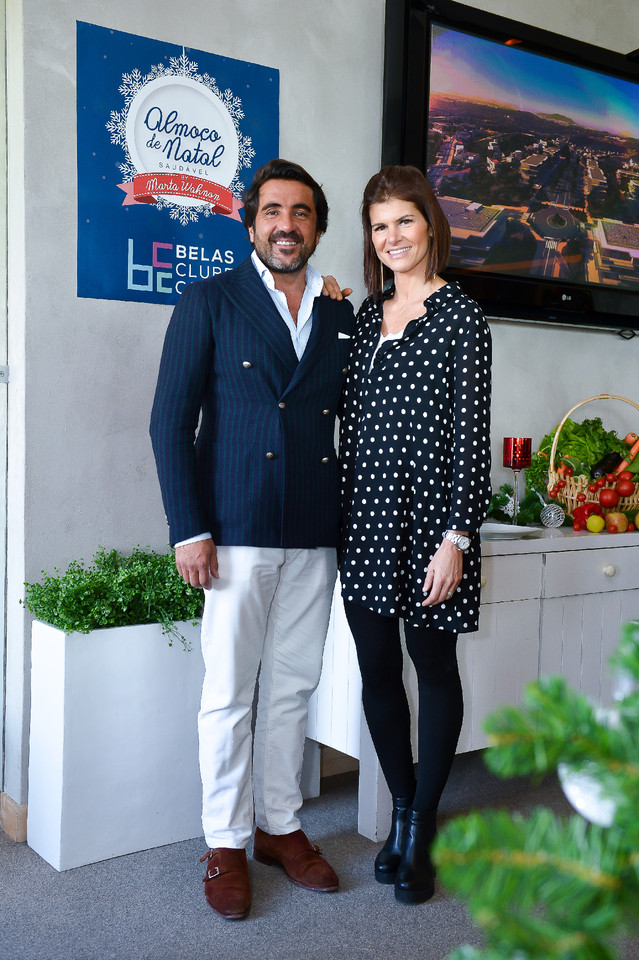 Por tudo isto, obrigada Universo, obrigada Vida e venha o próximo! 
Agora com as festas Natalícias, nada melhor do que saber um pouco mais sobre o conceito Soup Detox - É todo um novo mundo onde há tanto para conhecer e maravilhosos resultados a descobrir acima de tudo, sobre nós próprios - Desafia-te e acredita, serás verdadeiramente surpreendido!
Eu já não vivo sem um "Soup Detox 3Days" uma vez por mês; ajudar o nosso organismo a encontrar o equilíbrio necessário, eliminar toxinas num tão curto espaço de tempo de forma natural, renovar as células e sentir-nos com a energia renovada; tudo isto, com aquilo que a terra nos dá! É maravilhoso!
Pense nisso! Novo ano, novas decisões, novos objectivos - Vale sempre a Pena, Nós Valemos, Nós Merecemos - SEMPRE!
Love,
Marta
------------------------------------------------------------------------------------------------
It feels so good to feel that little nervous when we do something of Body & Soul!
On the 29th, at the invitation of the Belas Clube de Campo, I made my 1st Workshop whose theme was some healthy and tasty suggestions for Christmas Day.
It was 10:30 am when he "invaded" the kitchen in such a way as to leave as much preparation as possible, so as to avoid the waiting time and not knowing what to do! They were all 5 stars, they helped me on the hour, indeed, from start to finish! (16h)
It was 1:00 pm and I was ready to welcome my dear friends to lunch!
Thank God, it was a group I felt comfortable with, a group full of positive energy I believe this also helped in the success of lunch.
I started with the preparation of a turkey loin - escape the traditional and chose to slice it and make a mixture with lime, dates and orange zest. The questions were several, the most curious "student", undoubtedly Patricia Bull, again, thank you for the photos my dear and hopefully have helped in a future, enrich your pantry in the world of spices, and Carol, is promised , Let's go shopping, I'm your guide, it's going to be fun!
While preparing the tenderloin, it was served the Beet Soup which is a bit spicy (It is purposeful - it is part of the Doup Detox 3 Days) and my dear friend and nutritionist, Sara Biscaia Fraga - again, thank you very much for your help in Supplement of the nutritional values of the dishes, is not big fan but there ate ... To the end! :)
Before we went to the next dish - Hot Christmas Salad, (where I forgot to take the Wok!), I cooked with what was there, we made a break for the group photography and we went to the two dishes:
Hot Christmas Salad - For 4 Pax
Large can of grain
300gr shredded cod
600gr Carrots cut into "fajitas"
60gr Dry Tomato
160gr Yellow or orange sliced pepper
1 Pomegranate
8gr grated Ginger
100gr Round Green Bean
80 gr dates
2 tablespoons Coconut Oil
Poppy seeds
Preheat the oven to 190 ° while draining the grain so as dry as possible; Afterwards, spread on the board and season with piri piri (careful to dose!), Salt and olive oil. Put in the oven at 180º for 15 \ 18 '.
Cut the carrots into fajitas and another tray, spread them and season with saffron, fennel and cinnamon, proceed to the oven for 15 '.
Meanwhile, in Wok and on low heat, put the coconut oil, followed by the shredded cod, wrap them well, mix the ginger, the dried tomato and the green beans cut into pieces, followed by the grain and the carrot.
Whether in the case of the grain or the carrot, drag the sauce from both trays into the wok, they will flavor the salad.
Once well mixed, add the pomegranate and the juice of the latter, together with the dates that should be cut into small pieces in order to mix well with the remaining ingredients.
At the end, try again to see if you need a little more salt or pepper and you're ready to serve.
When filling, over the salad, put a few grams of poppy seeds.
Stuffed Turkey with Lima and Dates, Pumpkin and Pineapple in the oven:
A loin of 1200kg gives for 7 \ 8 pax
Cut the loin into two slices and in each of them do the following:
Put pink salt of the Himalayas finely cut lime lay on a bed and on top of this by the cut dates without pit.
Season with pepper, cinnamon, mustard powder and a little bit of orange zest. Spoon with a little coconut oil in both slices.
On the top of the loin apart from these ingredients, add oregano and once placed in the pyrex, pass a little olive oil.
Place in the oven at 180º for 20 \ 25 '
Now more relaxed, almost finished, it lacked to show how a simple apple could make a dish so beautiful, tasty and best, yield up to 3 dishes!
He followed the apple carpaccio with stuffing of wild berries, cinnamon and chopped almond and accompanying the coffee the carrot cake that they ate and repeated until he had brought home only the pyrex where it was made - Que Alegria!
And when I found out, it was 4 in the afternoon of a full day!
Once again I want to thank Joaninha for remembering me, I hope I have lived up to expectations, thank you Clarapor for all your dedication, I loved meeting the Belas Clube de Campo, I was a fan, thank you to all the invited and present friends, A special thanks to Mariana Alvim, there are few people who have the attitude that you had and I repeat when I say that I was moved by your gesture, now all you have to do is give yourself a "soapy" about vegetables and fruit in shell and not as you see when They appear directly on the plate, okay ?! ;) Finally, and equally important, thank you Nuno, you were my greatest strength to move forward with this project and what was this magical moment worth if I could not share with the Love of My Life !?
For all this, thank you Universe, thank you Life and come the next!
Now with the Christmas parties, nothing better than to know a little more about the concept Soup Detox - It's a whole new world where there is so much to know and wonderful results to discover above all, about ourselves - Defy yourself and believe, you will be Truly astonished!
I no longer live without a "Soup Detox 3Days" once a month; Help our body find balance, eliminate toxins in such a short time in a natural way, renew cells and feel with renewed energy; All this, with what the earth gives us! It is wonderful!
Think about it! New Year, New Decisions, New Goals - Always Worth It, We Value, We Deserve - ALWAYS!
Love,
Marta